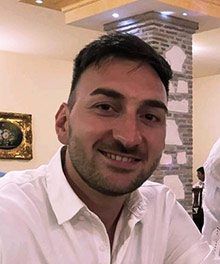 WP Number: WP1 & 2
Tittle: Polyunsaturated fatty acid (PUFA) degradation involvement in abiotic (heat) and biotic stress response in grapevine: effects on berry quality
WP Leading Partner: Università degli studi di Torino (UNITO), Italy
Visiting Researcher:
Name: Danilo Caruso
Position: Researcher fellowship holder

Home Institution, country: Università degli studi di Torino (UNITO), Italy
Host Institution: South African Grape and Wine Research Institute, Stellenbosch University,
Stellenbosch, South Africa
Scientific contact person at the institution: Prof Melané A. Vivier
Mobility period: 30st September 2022 – 30st March 2023
Objectives:
Lear

n

ing

a method for measuring PUFA in grapes to be related to grape quality.




Understanding how abiotic stresses can influence the accumulation of secondary

metabolites in grapes
Tasks :
Optimizing and validating an analytical method to profile and quantify PUF

As from

grape berry tissues

.




Applying the optimized method to evaluate PUFA profiles and

concentrations

in grape

berry tissues sampled

during v

ineyard experiments

subjected to

abiotic stresses

.




Extend the analyses of the berry materials to include berry qu

ality impact metabolites,

such as carotenoids and volatiles

.




Analyzing and interpreting the results obtained and recording the data either in a

report, or in a manuscript, as a co

-

author.
Deliverables (expected):
This research will provide an important scientific contribution through the optimization of a valid analytical method for the extraction and quantification of PUFAs in grapes. Considering the countless biological functions and the complex metabolic ramifications in which PUFAs are involved, this project plays a strategic role in providing useful indications about the grapevine response to abiotic stress In addition, by extending analyses to secondary metabolites derived from PUFAs such as volatile compounds and to hormones, it will be possible to relate their content to the grape quality.
The data obtained will be recorder in a report and will contribute to increasing knowledge on secondary metabolites in grapevine. Data will be published in an international journal and presented at a scientific conference.