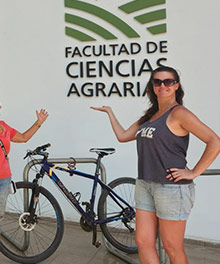 WP Number: WP1
Tittle: Evaluation of the potential of cultural practices in the control of the vineyard microclimate variability in order to increase the resilience of the vine to climate change
WP Leading Partner: Università degli studi di Torino (UNITO), Italy
Visiting Researcher:
Name: Alena Elizabeth Wilson
Position: Doctoral Candidate

Home Institution, country: University of Torino, Italy
Host Institution: Universidad Nacional de Cuyo
Scientific contact person at the institution: Dra. Liliana Estela Martinez
Mobility period: January 16, 2023 – May 19, 2023
Introduction:
One of the main strategies to combat extreme maximum temperatures, that occur during heat waves, is to increase the volume of irrigation "before" and "during" these events. This is done in order to reduce the threat of drought related stress by maintaining hydration, and stomatal activity optimized to keep photosynthesis and transpiration active. However, the limitation in current and future water availability will require a more rational management of water resources and a greater understanding of the effects of heat waves, and the volume of irrigation applied throughout the different phenological phases of the vine plants, its physiological effect and the chemical composition of grapes and wines resulting from such treatments.
Objectives:
Evaluate the mitigating effect against heat waves by using aerial micro-sprinkling on vineyards to keep the physiological plant activity and the grape quality in three red cvs.: Malbec, Bonarda and Syrah, in Chacras de Coria, Mendoza, Argentina.
Tasks :
We propose to carry out at least 4 periodic berry samplings to quantify the evolution of anthocyanin concentration from veraison to harvest. As a consequence, berries from similar shading conditions of the clusters, will be taken from the treatment and the control. Sampling will occur during the heat wave and subsequent days.
Polyphenolic content will be quantified according to the method of Revilla, et al 1998 (modified) in which the total polyphenol index (IPT) will be measured by spectrophotometry and anthocyanins will be quantified by HPLC, according to the OIV-MA-AS315- 11, belonging to the Compendium of International Methods of Wine and Must Analysis, OIV, 2014. Other parameters such as yield per plant, pH and soluble solids will also be monitored.
A randomized block design with three replications will be used. The data will be statistically analyzed with the INFOSTAT software.
Deliverables (expected):
Report writing on procedures and results.
Support in development of presentations of ongoing results for information dissemination.
Support in writing publishable research papers on results.
Develop robust international network of peers in research on climate change and the impact on viticulture specifically and agriculture generally for cross-pollination of ideas and risk identification.
.