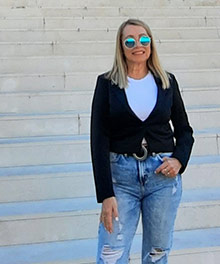 WP Number: WP2
Tittle: Grape and wine composition for quality and authenticity
WP Leading Partner: ISA/ULisboa
Visiting Researcher:
Name: Dra. Liliana Estela Martínez
Position: Full Professor

Home Institution, country: Universidad Nacional de Cuyo (UNCuyo). Argentina
Host Institution: University of La Rioja UDLR/ICVV. Spain
Scientific contact person at the institution: Dr. Fernanda Ruiz-Larrea, Professor of UDLR
Mobility period: 02/05/2023 to 03/08/2023
Objectives:
Evaluation of the potential of current commercial winemaking enzyme preparations with glycosidase activities to hydrolyze odourless grape glycosidic aroma precursors.
Glycosidases liberate the volatile aromatic aglycones with the consequent improvement of the wine sensory profile.
Tasks :
Analysis of od

orant aglycones released in

wines elaborated

with different glycosidase

preparations. Analyses will be performed by GC/MS.

Data processing and discussion of the results of aroma quality.




Networking activiti

es and

dissemination of the research

.
Deliverables (expected):
Report on the volatile composition and sensorial profile of wines elaborated using

commercial

enological

preparations

with glycoside activities

.




Seminar at the UDLR/ICVV