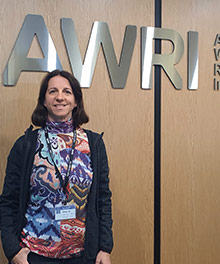 WP Number: WP3
Tittle: Wine making innovation for sustainability and safety
WP Leading Partner: Universitat Rovira i Virgili

Visiting Researcher:
Name: Gemma Beltran Casellas
Position: Associate Researcher
Home Institution, country: University of La Rioja UDLR (Spain)
Host Institution: The Australian Wine Research Institute
Scientific contact person at the institution: Antonio García Cordente
Mobility period: 29/06/2023 to 30/08/2023
Objectives:
Yeast nitrogen metabolism (Production processes, winemaking management)
Tasks :
Learning the CRISPR-Cas9 genetic modification technique.




Modification of wine yeast for the production of compounds of interest.




Getting familiar with the laboratory management and procedures used at the Australian

Wine Research Institute.
Deliverables (expected):
Research seminars and meetings given at the Australian Wine Research Institute.

Networking

and

establishment

of

new

collaborations

with

other

wine

and

yeast

researchers.

Learning new molecular techniques, protocols and laboratory management procedures

that could be implemented in the laboratories of the Wine Biotechnology Research

group (URV).